The 2019 Great Race for Education
In 2018 we raised over $50,000 for CEI student scholarships!
sponsorship_cei_greatrace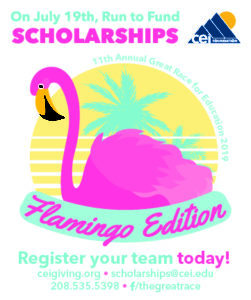 Join us for our 11th Annual The Great Race for Education on Friday, July 19, 2019. The fun begins at 12 p.m. at Snake River Landing, watch your team of four run complete challenges, run from Snake River Landing to Idaho Falls Historic Downtown District – it's a battle of physical strength and wits to race across the finish line. The top 10 teams go head to head in battle to win a named scholarship and BRAGGING rights!
Join us as a 2019 sponsor, thank you to our 2018 sponsors – we have several sponsorship levels available. Contact us scholarships@cei.edu if you are interested in sponsorship information.
Eastern Idaho Regional Medical Center
Battelle Energy Alliance Operators of Idaho National Laboratory
Idaho Central Credit Union
Fisher's Technology
Wells Fargo
ANDX Entertainment
LunchBox Wax
Divinia Water
– we'd love to have you join our Great Race family.
Reserve your team and sponsorship today by emailing natalie.hebard@cei.edu OR calling (208) 535-5398. You can also download the sponsorship kit here.
We have raised over $300,000 since the inception of the event for student scholarships and had a BLAST while doing it!
Alzheimer's Association sponsored by MorningStar Senior Living
Battelle Energy Alliance Operators of Idaho National Laboratory
Beard St. Clair Gaffney Attorneys & IDeACOM
Citizens Community Bank/ College of Eastern Idaho
Cooper Norman "The Birthday Suits"
Eastern Idaho Community Action Partnership "The Silent I's"
Eastern Idaho Regional Medical Center
Idaho Falls Fire Department sponsored by BBSI
Idaho Falls Mayor's Scholarship Fund
Idaho Central Credit Union "The Green Team"
Intermountain Gas Co. sponsoring USMC
Oswald Service & Repair sponsored YMCA
 Sleep Inn & Suites/Town Pump Inc. /Bugbee Bookkeeping
Strategic Social Partners 
Welcome to the CEI Foundation, since 1992, the College of Eastern Idaho Foundation has supported College of Eastern Idaho's efforts to develop our community through learning. Investing in College of Eastern Idaho through the CEI Foundation benefits all of us, transforming the lives of individuals and creating a better-prepared workforce that fuels a healthy economy.
As you explore our website we hope you find ways to get involved in supporting the learning the institution that has a significant impact on our community. Be a part of making a difference. Get involved with the CEI Foundation! It is about our future.
SUPPORT LOCAL PEOPLE, LOCAL JOBS AND THE LOCAL ECONOMY:
Do Something
Truly remarkable to make a quality, affordable college education accessible to all.
Change a Life
For the better. Changing lives through scholarship…priceless.
Have an Impact
On the future that reaches from the classroom to the community.
The CEI Foundation is separately incorporated 501 (c) (3) organization and the officially designated means of making private contributions to the college. View our most recent audited financial statements here.