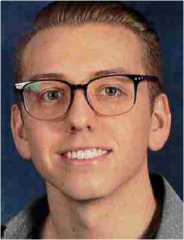 Hillcrest High School graduate, Hosea Duffey, started attending College of Eastern Idaho in the fall of 2018. Graduating high school a year early, Hosea had a few different options to consider, but decided to pursue his higher education immediately. As a resident of Idaho Falls, he was pleased to learn that he could now earn his Associate of Arts from CEI, and not have to worry about the expense of traveling for school for two more years.
Born with a rare genetic disease called Goucher, Hosea and his family have had to endure medical expenses for treatment. This treatment can be expensive, and Hosea worries about keeping his parents out of debt as much as possible. After earning his AA at CEI, Hosea plans to get his Bachelors in Accounting. "I want to get a degree in accounting with hopes to work for the state and be able to have better insurance." Hosea stated.
The affordable tuition at College of Eastern Idaho makes high education an obtainable goal for Hosea. In addition, CEI Foundation scholarships aided Hosea and his family financially. "The CEI Foundation scholarships have helped to cover a large chunk of my tuition, which allows me to be able to focus more on my studies."
Hosea was able to meet his scholarship donor at the CEI Foundation Annual Scholarship Banquet. "It was nice to meet someone who was supporting my student goals outside my family and friends," Hosea said. "The donors impact students in ways that they probably don't even realize. In fact, my donor worked in my intended field and was able to give me advice and a new perspective on my goals."
Hosea will finish his Associate of Arts from CEI in the fall of 2020, and then plans to continue his education at Idaho State University.